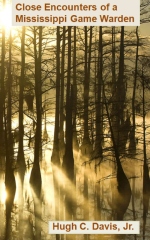 List Price: $12.00


---
Table of Contents
1. The Power of Wives' Persuasion
2. Almost Shot - Mistaken Identity
4. Knife and Shotgun Threat, Easy Sunday?
5. Close Call
6. Game Warden has a Heart
7. Navy Base Night Hunting
8. Turkey Hunting over Bait
9. Head lighting– Got a Live One!
10. Fatal Mistake? Almost!
11. Hunting from the Road
12. Stakeout in a Graveyard
13. Snagging Catfish
14. Killers on Mississippi-Alabama Line
15. Turkey, Two Bagger
16. Chihuahua, Steel Trap - Lady Called Governor
17. Christmas Day
18. Caught "Red-handed" with Footprint Evidence
19. Standing under Shooting House at Night
20. Armed Robber Protecting Girlfriend
21. Drunk & Disorderly
23. Who Shot What?
24. Handcuffs and Snow
25. Game Warden Buys Pulp Wood Hauler Ticket Home for Christmas
26. Game Warden Tells Guy -Take Yourself to Jail
27. Dangerous, but No Free Zones to Hunt
28. Sunday Morning Mercy vs. Justice
29. Judge and Alabama Lawyer's Browning Shotgun
30. Head lighting! Who me?
31. Shoot or Don't Shoot? The Ever Present Danger
32. Threatened! Hog Wash
33. The Judges Question
34. Electric Fence
35. The Man with a Gun and Desire